Cascina Vano farm has 15 hectares of estate vineyard in the heart of Langhe, the famous wine producing area near Alba.
The majority of them is located in Neive, where there is the wine cellar, the other one are located in the village of Barbaresco, Mango and Neviglie.
The grape varieties cultivated are those of Nebbiolo,Barbera, Dolcetto,Chardonnay and Moscato.
These grape varieties nowadays produce six wines: Barbaresco, Langhe Nebbiolo, Barbera d'Alba, Dolcetto d'Alba, Langhe Chardonnay and Moscato d'Asti.
Sottozona Canova
Vigneto del Ciabot, Neive (CN)
44°43'25.8"N 8°08'03.8"E
Uva: Nebbiolo
Produzione: Barbaresco DOCG Canova
Sottozona Rivetti
Vigneto del Pilone, Neive (CN)
44°43'25.9"N 8°07'49.7"E
Uva: Nebbiolo
Produzione: Barbaresco DOCG Pilone nei Rivetti
Vigneto Carulot
Neive (CN)
44°43'42.1"N 8°08'10.4"E
Uva: Barbera
Produzione: Barbera d'Alba DOC Superiore Carulot
Frazione Rivetti
Neive (CN)
44°43'32.5"N 8°07'52.2"E
Uva: Barbera e Dolcetto
Produzione: Barbera d'Alba DOC
Dolcetto d'Alba DOC
Frazione Rivetti
Neive (CN)
44°43'35.5"N 8°07'45.9"E
Uva: Nebbiolo
Produzione: Langhe Nebbiolo DOC
Frazione Valdivilla
Santo Stefano Belbo (CN)
44°42'37.3"N 8°10'41.0"E
Uva: Moscato
Produzione: Moscato d'Asti DOCG
The Langhe hills are situated in the southern part of the Region of Piedmont, between the Maritime Alps and the Apennines.
The Langhe region is among the world's most generous for the quantity and quality of wines produced. The origins of their fortune can be found in a micro-climate peculiar to the area, their geographical position and the richness of soil types to be found there. All these are factors that contribute to the region's biodiversity.
 Wines from the Langhe are immediately recognisable in a world context because they so completely represent their terroir: that is, the combination of a specific geological area and its particular climate.
 The classic Nebbiolo, Barbera, Dolcetto, are native vines with centuries-long history, that today have become so precious that the Langhe's hills are UNESCO World Heritage Site.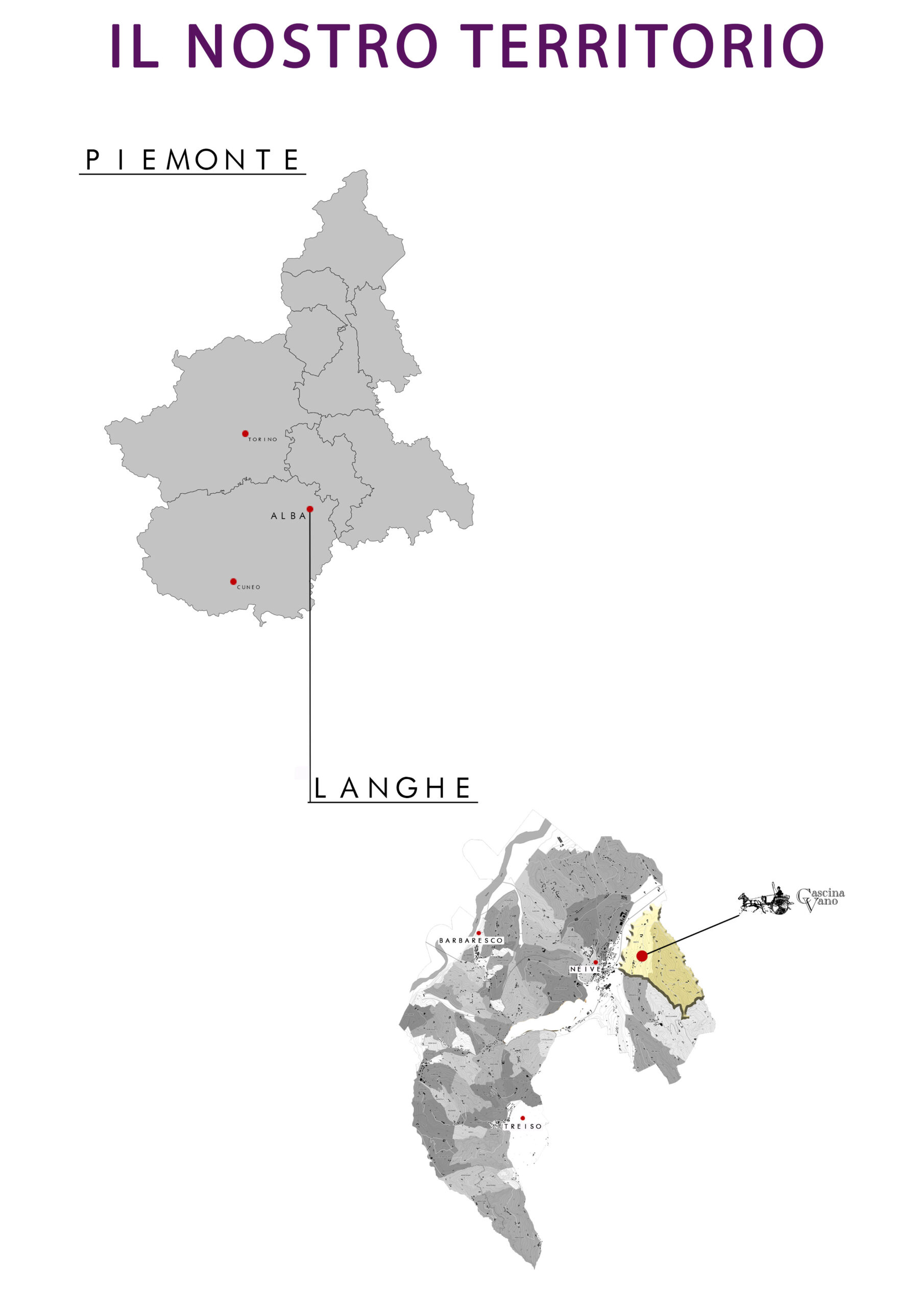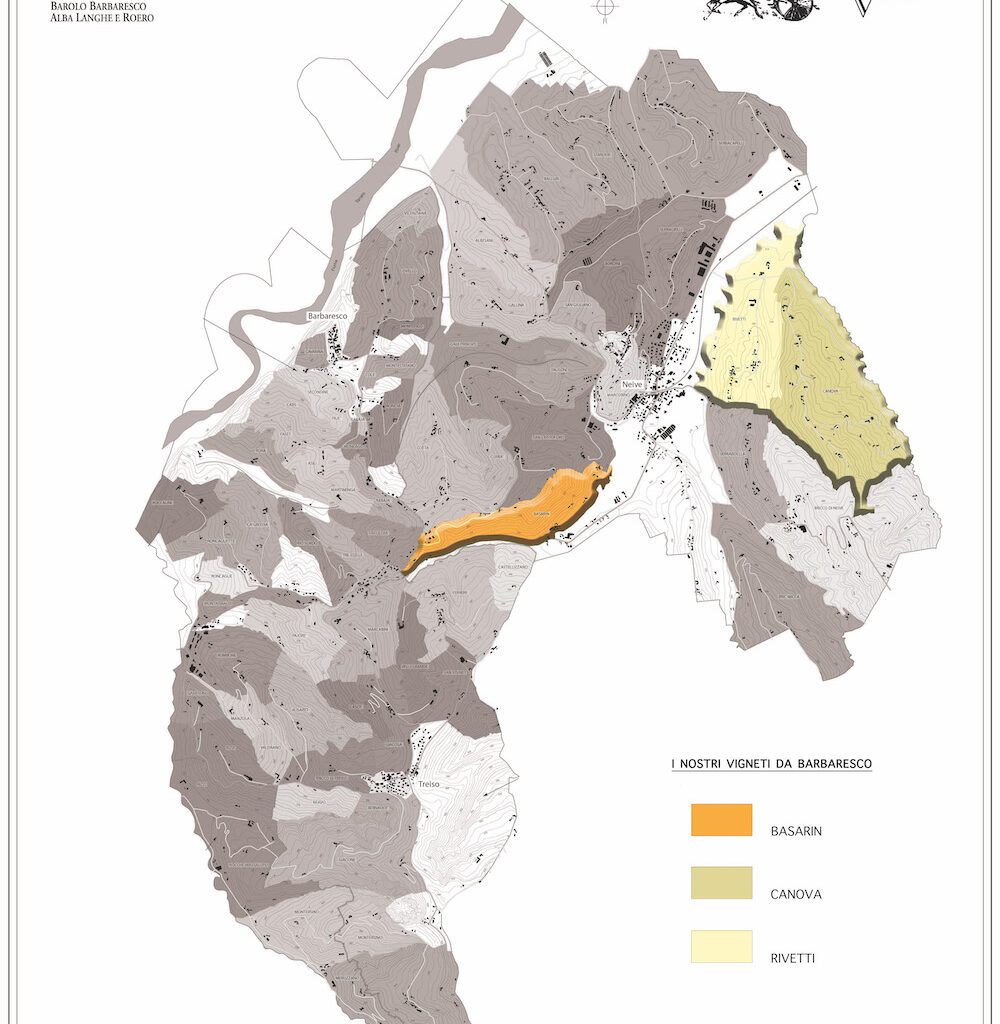 Le sottozone in cui produciamo il Barbaresco DOCG sono Canova e Rivetti, nel comune di Neive; ai due cru se ne aggiungerà un terzo, la sottozona Basarin, nel comune di Barbaresco, dove la famiglia nel 2018 ha acquistato tot h.
Azienda Agricola Cascina Vano di Rivetti Bruno via Rivetti, 9 – 12057 Neive (CN)
+39 0173 67263 +39 335 6542967
Email: cascina.vano@tiscalinet.it
Azienda Agricola Cascina Vano di Rivetti Bruno
C.F. RVTBRN66C21L219B
P.Iva IT02059640041
cascina.vano@tiscalinet.it

© 2019 Cascina Vano. All rights reserved